Toyota bZ4X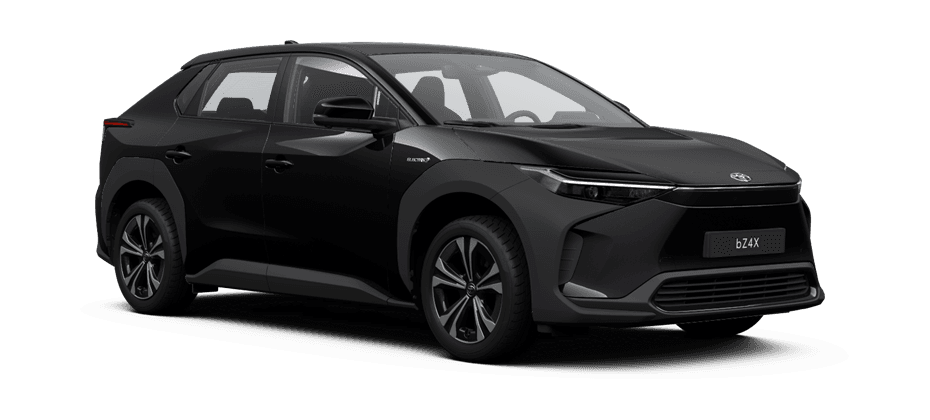 Power consumption, combined (WLTP): 19.3-15.9 kWh/100 km, CO2 emission, combined (WLTP): 0 g/km, electric range (EAER): 370-450 km*
The new Toyota bZ4X offers you real performance - purely electric performance. You want to make your company's mobility more sustainable and reduce emissions? With Toyota's flagship from the electric segment, it's possible, without compromise. With its robust yet stylish design, optional all-wheel drive and up to 450 km range, the Toyota bZ4X always gets you safely to your destination.
Ready for a new car?
Discover our leasing offers today
All-electric into a new era
Look forward to purely electric driving pleasure. The SUV is particularly responsive and offers you dynamics right from the start, just as you would want from a vehicle. For a truly seamless driving experience, the Toyota bZ4X also offers Single Pedal Drive with enhanced Brake Energy Regeneration, allowing you to accelerate and decelerate using only the accelerator pedal.
The Toyota bZ4X comes with a powerful battery (71 kWh) and can cover up to 450 km on one charge. The standard heat pump provides energy-efficient heating of the interior, which has a positive effect on the range.
Whether you're driving in the city or in the country: Toyota bZ4X always offers comprehensive safety technologies to keep you and your car protected. We call this Toyota T-mate. Among other things, this includes a latest-generation Pre-Collision System including Emergency Stop Assist.
Simply a good offer!
Effortless mobility for your business with KINTO One.
That's what makes our Business Leasing so special:
Maintenance is already included in your leasing rate!
Our manageable, monthly instalments give you planning security and preserve your company's liquidity
You can deduct your leasing instalments from tax as business expenses. Commercial leasing is balance sheet neutral, as KINTO remains the owner as the leasing company.
With our practical kilometre leasing, you pay according to use - without residual value risk
The leased company car can also be used privately in most cases
Additional service modules can be booked as an option.
How about our service module that takes care of changing your tyres and wheels every six months?
A non-binding offer from KINTO Deutschland GmbH, Toyota-Allee 5, 50858 Cologne. Appropriate creditworthiness required. Monthly leasing rate including maintenance. Wear parts and repairs optionally available. All offer prices are based on the non-binding recommended retail price of Toyota Deutschland GmbH, Toyota-Allee 2, 50858 Cologne, as of January 2023, plus VAT, plus transfer. This offer is only valid for commercial customers. Valid upon request and approval until 31.12.2023. Only at participating Toyota dealers. For individual prices and finance offers, please contact your Toyota dealer. Vehicle images may show optional equipment.

The values given were determined according to the WLTP (World Harmonised Light Vehicle Test Procedure) test procedure and are equipment-dependent. The values for the electric range and power consumption of your vehicle may deviate from the measured or calculated values, as many other factors have an influence on the electric range of a vehicle. These factors include, among others, driving behaviour (e.g. speed), outside temperature, weather (dry, wet, windy), use of comfort/secondary consumers, road conditions, traffic, vehicle condition, tyre type (summer/winter) and tyre pressure, payload, number of passengers, optional equipment, battery temperature during the journey.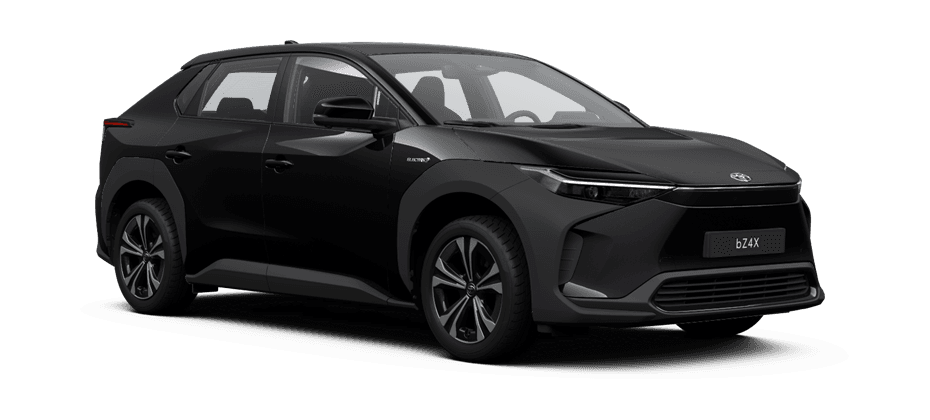 Basis
Special features
18-inch alloy wheels with aerodynamic wheel cover
Headlights, daytime running lights and rear lights in LED technology
Toyota Safety Sense
Toyota Smart Connect (8" display) with cloud navigation system
Rear view camera
Smart key system

* Further information on the official fuel consumption and the official specific CO2 emission of new passenger cars can be found in the 'Leitfaden über den Kraftstoffverbrauch, die CO2-Emissionen und den Stromverbrauch neuer Personenkraftwagen' (Guide to the Fuel Consumption, CO2 Emissions and Electricity Consumption of New Passenger Cars), which is available free of charge at all sales outlets and from Deutsche Automobil Treuhand (DAT) at www.dat.de.
KINTO One is aimed exclusively at business customers. All prices are exclusive of VAT unless otherwise stated.
Your order is an enquiry about the conclusion of a leasing contract. After a positive credit check, you will receive the corresponding contract documents.